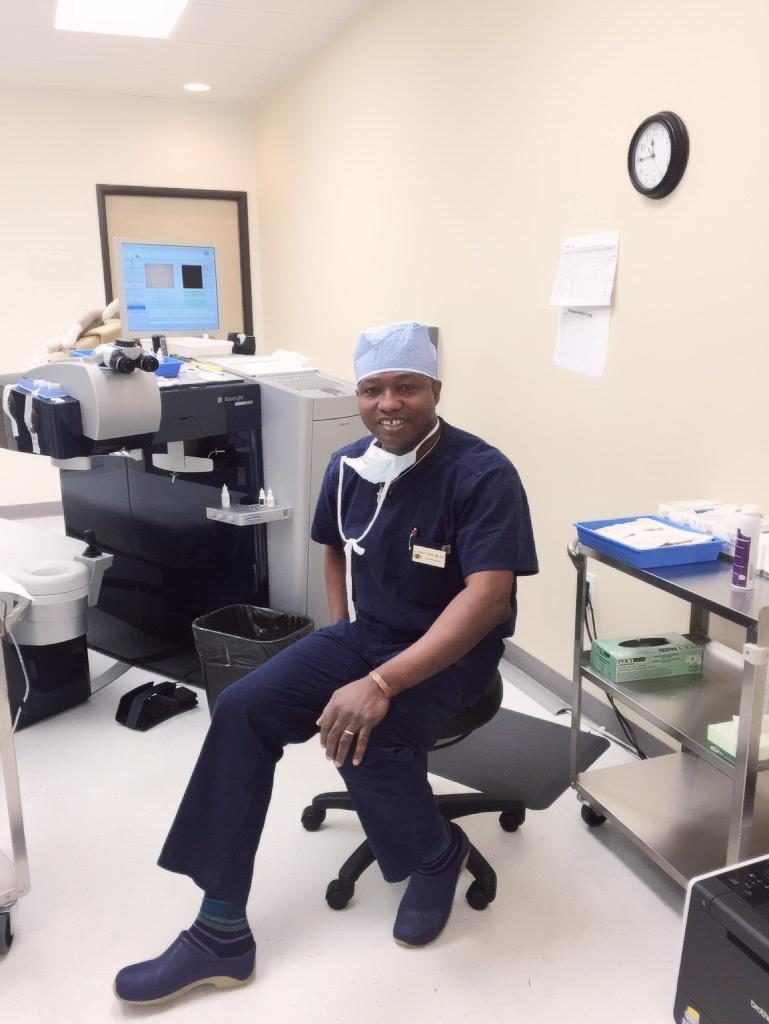 The Laser Vision CXL team is led by an experienced cornea and refractive surgeon and supported by trained refractive surgery nurses, technicians and administrative staff. We offer personalised Laser Eye Surgery to world-class standards.
Laser Vision CXL is one of the few institutions in the world that records every single major operation for teaching and monitoring of surgery to ensure high standards and outcomes. The impact has been tremendous. At Laser Vision CXL, the success rate of our surgeries is comparable to world best institutions, exceeding 99%.
Godwin Stanley Okoye, MD, PhD is a graduate of Rutgers Robert Wood Johnson Medical School and Graduate School in Biomedical Studies. Dr. Okoye is a member of by the American Academy of Ophthalmology, and fellowship trained and experienced LASIK, ASA/PRK, LASEK refractive surgeon. He has performed thousands of refractive surgeries. Dr. Okoye is a member of the American Academy of Ophthalmology, the American Society of Cataract and Refractive Surgery and American Medical Association. Dr. Okoye completed residency in ophthalmology at Howard University School of Medicine and Hospital, Department of Ophthalmology.
Fellowships: Cornea Refractive Surgery, Park Ave Laser Safe Sight, Manhattan, NY; Post Doctoral Fellowship in Gene Therapy in Retinal Degeneration & Neuroscience, Wilmer Eye Institute of Johns Hopkins School of Medicine and Hospitals, Baltimore.
Awards: NIH Post-Doctoral Fellowship, Wilmer Eye Institute, Johns Hopkins; NIH Travel Research Award, Gene Therapy for Retinal Degeneration; Robert Wood Johnson Foundation Research Scholar in Neurological Diseases and Muscle Disorders.
Dr. Okoye's research has been published in many highly respected medical journals including Journal of Neuroscience, FASEB, ARVO, Gene Therapy, Journal of Comparative Neurology, Experimental Neurology.
Undergraduate: BS Pharmacy, Xavier College of Pharmacy, New Orleans, Lousiana.
Regain your vision today! To schedule a free evaluation with Dr. Godwin Stanley Okoye call us today or fill out the form on this page.

Why Choose Us?
If you are seeking a place to under LASIK or LASEK, you can trust us as a leader in the industry and among the most experienced. We use the blade-less Femto Laser for flap creation for LASIK with almost no risk of flap complications. We are among the leader worldwide in LASEK procedure which is a non-invasive surgery that does not involve cutting into the delicate layers of your eyes.